Friday Hacks #230, October 14: The Making of Precursor: AMA and Post-quantum algorithms, or quantum key distribution?
Posted on by Shen Yi Hong
Date/Time: Friday, October 14 at 7:00pm SGT
Venue: Basil Room @ Shaw Foundation Alumni House
Register for Food: NUSync Food Sign-up Link
Recording: https://youtu.be/_dhfdEdV_J0
Food 🍕 will be served!
If you are unable to come join us physically, you are welcome to join us online!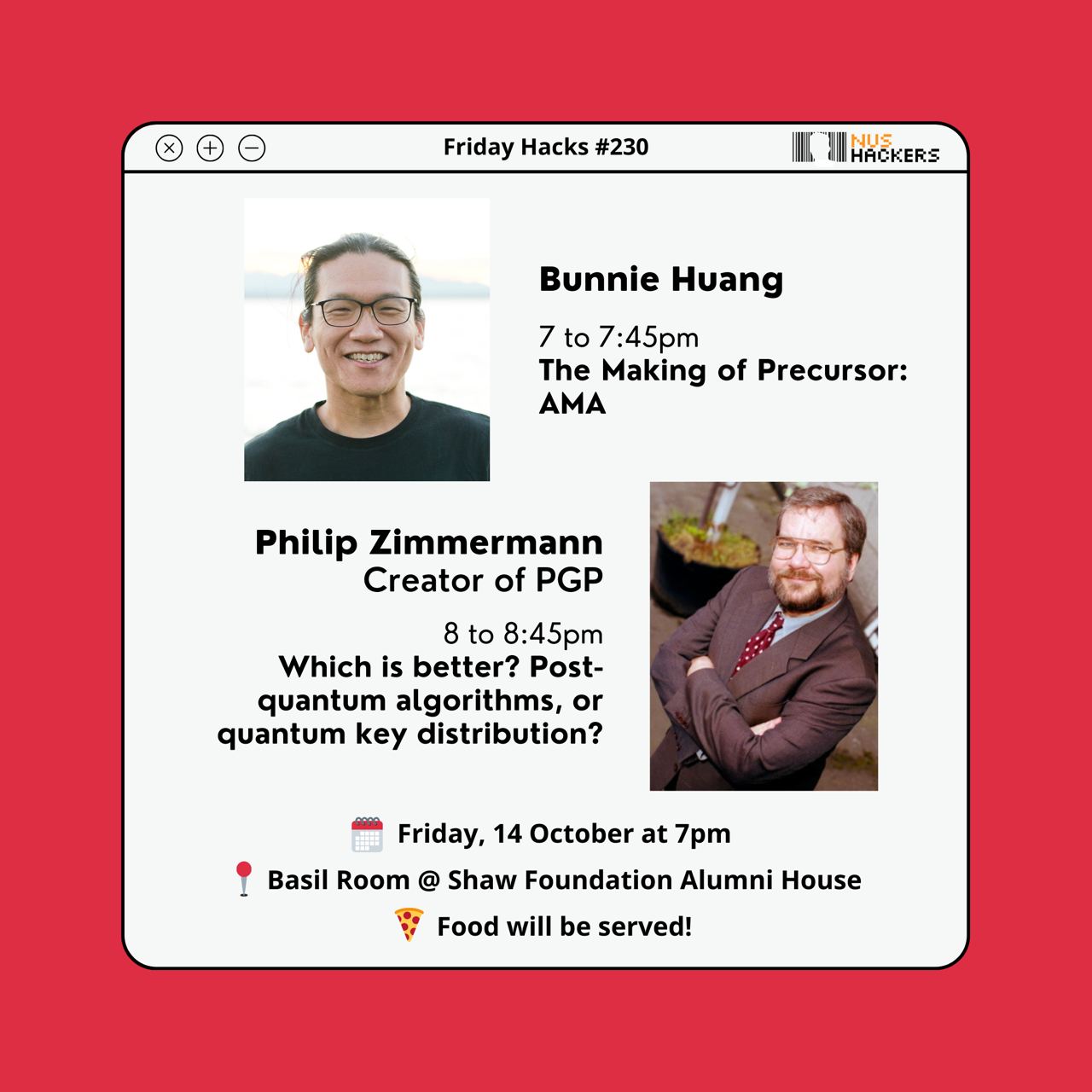 1) The Making of Precursor: AMA
Precursor is an open hardware platform for developing secure applications. The design is open-source from the CPU core to the metal case to the full-custom operating system, Xous. This talk will set the stage for the broader context of Precursor, touching on some of the more interesting challenges, while reserving a chunk of time for audience Q&A to deep-dive into facets that are of most interest to the attendees.
Speaker Profile
Andrew "bunnie" Huang is an American researcher and hacker, who holds a Ph.D in electrical engineering from MIT and is the author of the freely available 2003 book Hacking the Xbox: An Introduction to Reverse Engineering.
2) Post-quantum algorithms, or quantum key distribution?
To be added
Speaker Profile
Philip R. Zimmermann is an American computer scientist and cryptographer. He is the creator of Pretty Good Privacy, the most widely used email encryption software in the world. He is also known for his work in VoIP encryption protocols, notably ZRTP and Zfone.